Movie Star Pilots
---
Movie stars, rock stars, professional athletes, they may be rich and famous, but with out a private plane, you still have to wait inline at the TSA. Buckle up and we'll take you on a journey into the fascinating world of celebrity pilots, revealing which movie stars the stars can fly themselves...
See Also: Rockstar Pilots
Celebrity Actor Pilot List:
John Travolta
John Travolta has to be first on our list, because he's as accomplished an aviator as he is an actor. He first rose to fame in the '70s starring in box office hits "Saturday Night Fever" and "Grease". His acting in "Saturday Night Fever" earned him an Academy Award nomination for Best Actor. Later in his career he found a new generation of fans with his work in "Get Short", Quentin Tarantino's "Pulp Fiction", and in "Face/Off" with Nicolas Cage.
But along with all the acting, he's also been a pilot and aviation enthusiast since he was 22. He owns an impressive fleet of eight aircraft, including a Qantas Boeing 707 and a USAir Boeing 727. He has single-engine and multi-engine aircraft certifications and is instrument and commercial-rated. In all Travolta holds eight jet licenses, including ones for the Boeing 707, 747, Gulfstream II, Hawker 125, Lear 24, 25, and 36, the British Vampire Jet, and the Canadair CL-41 Tebuan jet. Travolta is a winner of the American Institute of Aeronautical Engineers Award for excellence in aviation and worldwide promotion of the airline industry and also serves as a worldwide ambassador for Qantas Airlines. Architectural Digest has some fun photos of his Aviation themed Florida estate. Located in Jumbolair , the property has has a 7500 foot runway, but Travolta had the taxiway extended to reach his house. That must make travel pretty convenient!
Tom Cruise
Tom Cruise is one of the biggest movie stars in the world. He is renowned for his performances in "Top Gun," "Jerry Maguire," and the "Mission: Impossible" series, as well as many others. His acting prowess has earned him three Academy Award nominations and three Golden Globe Awards.
While filming the original Top Gun, Cruise developed an interest in aviation. After the film, in 1994, he became a pilot and and today owns several planes. The most luxurious is a Gulfstream IV jet, which reportedly includes a jacuzzi and screening room. On the more adventurous side, he has an Aviat Pitts S-2B aerobatic aircraft and a P-51 Mustang. If that seems familiar, it's because that was the very plane he was flying in the scene in "Top Gun: Maverick". Despite his skill as a pilot and reputation for doing his own stunts, the U.S. Navy denied Cruise's request to fly the $70 million F-18. Navy pilots were used instead, but all the flying was real, no CGI!
Angelina Jolie
Angelina Jolie, known for her roles in "Girl, Interrupted", "Mr. & Mrs. Smith", "Lara Croft: Tomb Raider," and many more movies is a distinguished American actress, film director, and humanitarian. She was introduced to the show business as a child, by her father, Academy Award-winning actor Jon Voight. Her dad also got her interested in flying, because Voight is licensed pilot too. Jolie took flying lessons in Canada, along with her then husband, Brad Pitt (see below for more on Brad Pitt). She got her private pilot's license in 2004. She has since continued flying and owns several aircraft: a Cirrus SR22-G2 (equipped with the parachute) and a Beechcraft Bonanza. Jolie wasn't content to limit herself to fixed wing aircraft and has helicopter pilot's license too! She has flown a several helicopters, including a Bell 206 JetRanger and a Robinson R44. Vanity Fair quotes Jolie saying, "There's something about feeling the freedom of moving through the air that gives me a sense of renewal and peace. It's the only place I have found that I can completely clear my mind."
She clearly loves to fly, but as a humanitarian, Jolie doesn't just fly for fun. She has used her skills and her aircraft for the causes she cares about. In 2010, Jolie used her aircraft to transport aid in Haiti after the earthquake. In 2012, she flew in Tanzania when working with the United Nations (UNHCR) to visit a refugee camp. In 2016, she became a special envoy for the International Civil Aviation Organization (ICAO), a UN agency working to to promote safe and sustainable air travel. Not only is she a great pilot, but a great person as well.
Brad Pitt
Brad Pitt is an American actor and film producer renowned for his charismatic on-screen presence and versatile acting skills. His career features noteworthy performances in "Fight Club" , "Ocean's Eleven", "The Curious Case of Benjamin Button", and "Once Upon a Time in Hollywood".
Beyond his illustrious acting career, Brad Pitt is also an accomplished pilot, a pursuit he initially started under the encouragement of his then wife, Angelina Jolie. Since receiving his private pilot's license in 1994, Pitt has added a multi-engine rating to his qualifications, underscoring his dedication and competence in aviation. His passion for flying extends beyond the conventional, as evidenced by his ownership of a World War II-era Supermarine Spitfire, and a vintage Mustang. This interest was notably heightened during the filming of "Fury," a WWII action film he shot in the UK in 2013. Following this, Pitt embarked on an intensive training regimen at the Boultbee Flight Academy in Oxford, according to The Daily Mail. Here, he mastered the operation of the Spitfire's unique controls, further adding to his flying prowess.
Dennis Quaid
Quaid is a distinguished actor known for his work in both comedic and dramatic films. He rose to prominence in the 1980s with notable performances in films such as "The Right Stuff," but he was also in "Flight of the Phoenix" and a new Aviation film: "On a Wing and a Prayer". That's the 2023 movie based on the true story of Doug White, a passenger who has to land a plane after the pilot dies.
Of course, in real life, Quaid is actually a licensed private pilot. He obtained his pilot's license in 1994 and is qualified to operate single-engine and multi-engine land planes, and instrument rated. He owns a Cessna Citation 500 series twin-engine light jet, which he uses regularly to fly to his property in Montana.
Harrison Ford
Harrison Ford is known for his roles in in the massive Star Wars and Indiana Jones franchises. It's a good thing he made some money, because when Ford initially started learning to fly in the 1960's he had to put his training on hold due to the high cost. In the 1990s, he restarted his training with one of his corporate pilots in a Cessna 182. Then he upgraded to a Cessna 206, which he would use for his first solo flight. At 53, Ford finally received his private pilot's certificate. Not ready to stop, he went on to earn his helicopter rating and purchased a Bell 407GX helicopter in 2013. He has also earned a Private Pilot Single Engine Sea, Multi Engine Land and an instrument rating along with two type ratings. He's provided emergency helicopter services, using his piloting skills to help other. Ford's love for aviation is well-known, further adding to his adventurous public image, but like all pilots, he is not immune to mistakes. Watch his landing from 2017 on a taxiway (instead of the parallel runway) at John Wayne Airport, and listen to the conversation with ATC, where they give him the dreaded "number to call".
Kurt Russell
Hollywood actor Kurt Russell began acting as a child, but his breakthrough role came in 1981 when he portrayed 'Snake Plissken' in John Carpenter's dystopian classic, "Escape from New York." His fame grew with "Big Trouble in Little China" and light-hearted comedies such as "Overboard" , where he costarred with Goldie Hawn. But pilots may know him from his role in "Executive Decision," where he portrayed a special operations team member compelled to land a hijacked airplane.
Off screen Russell is an avid aviator, as was his grandfather, an acrobatic pilot and Senior TWA Captain. An Airport Journals profile quoted him saying: "Flying has taught me more about who I really am than anything I've ever done". Russell has racked up over 5,000 flight hours since he got his pilot's license since the early 1980s, and is qualified to fly both single-engine and multi-engine aircraft. He has owned and flown a De Havilland Beaver, a Rockwell Commander, a Cessna Crusader, a Cessna 414, a Cessna Conquest, and shares ownership of a Piaggio Avanti 180 but its his favorite is Starduster biplane. He was also the pilot that first reported the "Phoenix Lights", a widely seen supposed UFO sighting in 1997. He also supports Wings of Hope, an aviation-related charity, even donating his 1963 De Havilland Beaver aircraft to help raise funds for the organization.
Gary Sinise (Forest Gump)
Gary Sinise is an actor, director, musician and humanitarian. He is best known for his role as Lieutenant Dan Taylor in the critically acclaimed film "Forrest Gump", that earned him an Academy Award nomination for Best Supporting Actor. Sinise's acting career spans several decades and includes roles in "The Green Mile", and "Apollo 13". Aviation enthusiasts might be more impressed High Flight, which follows Sinise as he trains to fly in the U2 spy plane and takes a trip to 70,000 feet!
Sinise isn't just a private pilot, he also uses his skills to fly veterans as part of the Soaring Valor initiative. The project provides WWII veterans with the opportunity to visit the National WWII Museum in New Orleans and the WWII Memorial in Washington, D.C.
Michael Dorn (Star Trek)
Michael Dorn is most famous for playing Commander Worf in the Star Trek series, but he has also been acclaimed in the aviation community. Dorn was interviewed on the "Private Jets" episode of Modern Marvels (History Channel). He grew up loving aviation and thanks to his role on Star Trek he got to become a real aviator. "It was always very cool," he explains, "and then all of a sudden I became a Navy Mascot." Well, that led to landing on an aircraft carrier and flying with both the Blue Angels and the Thunderbirds, two of America's most elite aerobatic teams! Those are not things very many pilots can say!
Dorn has owned a couple jet aircraft, including a Lockheed T-33 Shooting Star and a North American F-86 Sabre. He is currently flying his North American Sabreliner. Dorn is also involved with several aviation organizations, including the Air Force Aviation Heritage Foundation, where he is a member of the the advisory board.
Dave Coulier (Full House)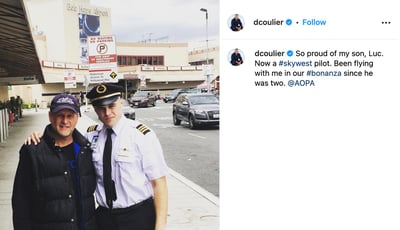 Dave Coulier is an actor and stand up comedian, best known for his role as Joey Gladstone on "Full House". His journey into general aviation began at the tender age of five at a small airport in Michigan. This was the very airport where, in 1979, he would obtain his pilot's license. Of course, he had to continue the tradition with his son, who first flew with Coulier when he was just 2 years old. That son, Luc, is now a commercial airline pilot! After his son was born, he expanded his skills to include an instrument rating. In 2012, he underwent additional training in a Cirrus SR20 to ensure his flying skills stayed up to date. He now also proudly participates in the Hat in the Ring Society, a contributor to the AOPA Foundation, an organization dedicated to promoting aviation safety. He often shares photos of his flying adventures on his social media accounts.
Morgan Freeman
Morgan Freeman is an acclaimed American actor, director, and narrator known for his distinctive deep voice and his famous roles including "Shawshank Redemption", and his Academy Award for for his role in "Million Dollar Baby".
Despite joining the Air Force as a mechanic, Freeman did not earn his pilot's license until he was 65 years old! Don't worry, he made the most of his flight talent, despite his late start. His impressive collection of aircraft includes three planes: a Cessna Citation 501 SP jet, a twin-engine Cessna 414 twin-engine prop, and an Emivest SJ30 light jet. Unfortunately, in 2008 he was in a near-fatal car accident that paralyzed his left hand, leaving him unable to fly solo, but he still co-pilots.
Hilary Swank
Hilary Swank rose to prominence in 1999 with her Oscar-winning performance in "Boys Don't Cry," and again clinched the Best Actress Oscar for her portrayal of a determined boxer in "Million Dollar Baby". During the 2009 filming of "Amelia," a biopic in which she played the trailblazing aviator Amelia Earhart. Initially, Swank learned to fly to convincingly portray Earhart on screen, but inspired by the real-life aviator's fearlessness and determination, Swank decided to continue her flying studies after the film concluded. She accumulated approximately 19 hours of flight time during the making of the movie but wasn't able to solo due to insurance restrictions. After the movie wrapped, she continued her training, even surprising her then-boyfriend, John Campisi, from Las Vegas, by having him fly back with her. However, she never quite managed to get her private pilot's license.
Well that all changed this year when Swank revealed on 'The Late Late Show' that during the Covid-19 pandemic, she had finally finished her training and received her pilot's license. Since she only flies a single engine propeller plane, she can't take the whole family to LA by plane, at least not yet...
James Franco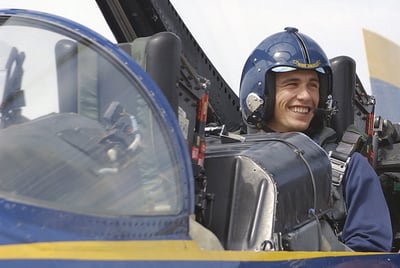 James Franco first gained recognition on the cult-classic TV show "Freaks and Geeks". Franco achieved further fame in Sam Raimi's "Spider-Man" trilogy. He received critical acclaim and a Golden Globe award for his performance in "James Dean" and continued to showcase his acting prowess in "Milk" (2008) and "127 Hours", for which he was nominated for an Academy Award, and later in "The Disaster Artist", where he won a Golden Globe. It was back in 2005 he was cast in the WW1 movie "Flyboys". He was playing Blaine Rawlings, a volunteer in the Lafayette Escadrille, where he got the flying bug.
With a month to kill before the the movie began production, Franco said, "I had a bunch of time, so I went and got my pilot's license". It's always great when on screen pilots are off screen pilots too, but professional stunt pilots did the movie flying with James in the rear seat.
Zach Braff
Zach Braff rose to fame with his role as the quirky, daydreaming doctor, J.D., in the hit television series "Scrubs," for which he earned a Primetime Emmy Award nomination. Braff's directorial debut, "Garden State" (2004), was a critical and commercial success and solidified his standing in the independent film industry. His performance in the film also won him a Grammy for Best Soundtrack. Known for his offbeat humor and creative storytelling, Braff continues to make a significant impact in both television and film.
While Braff is celebrated for his work in the entertainment industry, it's less known that he's also a pilot. This passion traces back to his childhood fascination love of fifighter jets, a fascination instigated by building model planes and watching movies like "Iron Eagle." However, his love for flying eventually turned into a fear of it as he grew older, particularly in relation to commercial airliners. Spurred on by a rough patch of travel and a desire to face his fears head-on, Braff decided to tackle this fear by taking flying lessons. He trained in Van Nuys, California, where he learned to fly state-of-the-art Cirrus SR-20 aircraft. Initially overwhelmed by the complexities of flying, Braff eventually mastered the skill, likening the learning process to discerning a hidden 3D image. His passion for flying grew and he now says earning his pilot's license was one of the most exciting moments of his life. This journey not only helped him overcome his fear of flying, but also inspired him to confront other fears with the hope of dispelling the unknown through knowledge and experience.