Rockstar Pilots
---
Celebrity Musician & Singers that love to fly!
Ever wondered what rockstars do when playing to fans in packed arenas? For a select group of musical luminaries, the answer lies thousands of feet above the ground. From Iron Maiden's Bruce Dickinson's impressive aviation career to Enrique Iglesias' passion for flying, these famous singers and musicians have taken their talent to the skies. Join us for a 20,000 foot overview of the world of rockstar pilots. Whether they're soaring above the clouds, owning a fleet of impressive aircraft, or simply embracing the tranquility of flight, these stars showcase that their abilities aren't limited to just the stage.
See Also: Movie Star Pilots
Bruce Dickinson, Lead Singer of Iron Maiden
Bruce Dickinson is best known as the lead vocalist of the heavy metal band Iron Maiden. His powerful wide-ranging voice and energetic stage presence have made him one of the most acclaimed figures in heavy metal. Apart from his music career, Dickinson is also an author, broadcaster, and aviation entrepreneur. He joined Iron Maiden in 1981 and has since been a part of the band's success story, contributing significantly to their worldwide recognition and sales of over 100 million copies of their albums.
Beyond his musical endeavors, Dickinson has a fascinating parallel career as an aviation professional. His interest in flying began in the 1990s, during which time he earned his commercial pilot's license. For several years, he worked as a captain for Astraeus Airlines, a charter company that eventually folded in 2011. Following this, Dickinson leveraged his love for flying to establish Cardiff Aviation in 2012, which later restructured as Caerdav. As the company's chairman, he oversees maintenance for large commercial transport airplanes, including Boeing 737s, Airbus A320s, 767s, and 757s. This involves engine changes, landing gear replacements, interior refits, electronic upgrades, and complete strip downs and rebuilds. While he has captained the tour plane for Iron Maiden on many flight, as he approaches the airline pilot retirement age of 65, he has opted to take a backseat during flights, relishing the distinct satisfaction that flying offers compared to his rockstar career. He appreciates the invisible role of an airline pilot, which he sees as a stark contrast to his vibrant stage presence. Indeed, Bruce Dickinson is a unique blend of a rockstar and an aviator, excelling and finding fulfillment in both spheres.
Tim McGraw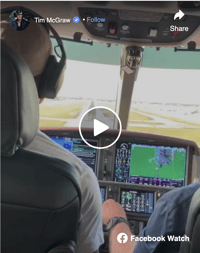 Tim McGraw is a renowned country music singer, married to Faith Hill. McGraw has had a successful career in music, with several of his albums and singles topping the country music charts. He has seen 11 consecutive albums debut at the top of the Billboard albums charts and has sold more than 40 million copies of his albums. In addition to his music career, McGraw has also acted in several films, including a supporting role in "The Blind Side" and lead roles in "Flicka" and "Country Strong".

He flys a Cirrus Vision SF50 and a SR 22. As a Cirrus owner, Tim has become a celebrity spokesperson in multiple Cirrus Aviation promos. Saying: "I love being up in the air, not having to think about work, not having to think about records, not having to think about movies, not having to think about who I didn't call today. When I am up there, I don't have to worry about any of that stuff," He goes on to say, "Flying for work is very rewarding because it's always fun to have a mission."
Jimmy Buffett
Jimmy Buffett, a renowned singer and restaurant owner, is also an avid pilot. Buffett's music career spans several decades, with his first album, "Down to Earth," released in 1970. He is famous for his "island escapism" music that resonates with his dedicated fans, known as "Parrotheads." In addition to his music, Buffett is involved in two chains of restaurants, "Cheeseburger in Paradise" and "Margaritaville," both named after two of his most popular songs.
As a pilot, he owns a veritable fleet of aircraft, including a Grumman Goose seaplane and a Boeing E-75 Stearman. The Goose, a vintage amphibious aircraft, and the Stearman, a biplane used for military training during the mid-20th century. He also has a Falcon 900EX, a Pilatus PC-12, and a Cessna 208 Caravan. Buffett has previously owned all of these: a Falcon 900, a Grumman Widgeon, a Falcon 50 and a Cessna 208 Caravan. Buffett now has a Commercial Pilot License with ratings for multi-engine land and sea aicraft, and an instrument rating for flying in clouds and low weather. He also holds type ratings for the Cessna Citation 500-series jets, the Falcon 50 and 900, and the Grumman Albatross.
Kris Kristofferson
Kris Kristofferson is a celebrated American singer-songwriter and actor. With roots in country music, some of his most famous songs include "Me and Bobby McGee," "Help Me Make It Through the Night," and "Sunday Mornin' Comin' Down." In addition to his musical career, Kristofferson has also acted in over 70 films and television shows, earning a Golden Globe for his performance in "A Star is Born."
Before his rise to fame, Kristofferson lived a life steeped in military tradition, hailing from a family with a history of military service. He joined the US Army in 1960, where he earned his Ranger tab and trained as a helicopter pilot, reaching the rank of captain. Stationed in Germany during an era when the US Army was exploring the concept of "Air Cavalry," he also started his own band, marking the genesis of his music career. In 1965, despite being offered a prestigious position to teach at West Point, Kristofferson left the Army to pursue his dream of becoming a musician, a decision that led to estrangement from his military family. On his path to Nashville, Kristofferson worked various jobs, including as a commercial helicopter pilot for Petroleum Helicopters International (PHI), based in Louisiana. His time at PHI was split between working on oil platforms and flying helicopters, which provided him with the solitude to write some of his most notable songs, including "Help Me Make It Through the Night" and "Me and Bobby McGee." Perhaps the most legendary story from Kristofferson's time as a pilot involves him landing a helicopter in Johnny Cash's yard in an audacious attempt to gain his attention and get him to listen to his music. While some of the details of this story may have been exaggerated over time, the incident symbolizes Kristofferson's determination and unconventional approach, as both a pilot and a musician.
Enrique Iglesias
Enrique Iglesias is often recognized as the King of Latin Pop. He burst into the music scene in the 1990s, becoming the biggest seller of Spanish language music albums before crossing over into the English music market. With multiple Grammy nominations and wins under his belt, Iglesias is one of the best-selling recording artists in the US. His personal life is marked by a long-standing relationship with former professional tennis player Anna Kournikova, with whom he's been in a domestic partnership since 2007.
Iglesias also harbors a profound passion for aviation. His fascination with planes led him to purchase his first aircraft even before he had earned his pilot's license, indicating his intense desire to experience the freedom of flight firsthand. Iglesias's impatience to take to the skies is so great that he once humorously likened himself to the "Barefoot Bandit," a teenager who, despite not having any formal flight training, successfully flew several stolen planes. Today, the singer utilizes his aviation skills frequently, often flying to his home in the Florida Keys.