Five Great Flights for Flight Training in San Diego
---
San Diego boasts phenomenal weather conditions. And when we say it's gorgeous, we mean G-O-R-G-E-O-U-S! With over 300 good weather days annually, our pilots enjoy more flying days than most other cities in the USA. This consistency in weather conditions offers a fantastic opportunity for aspiring pilots to practice more and perfect their skills.
The San Diego Bay Tour from the Air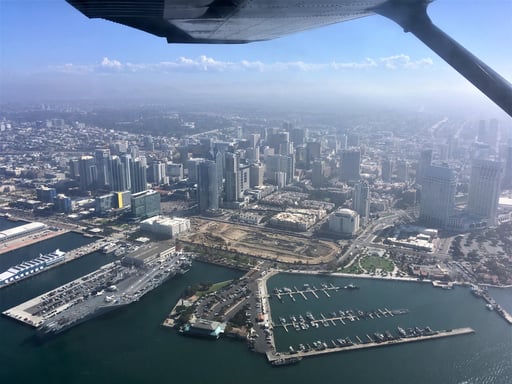 The San Diego Bay Tour takes pilots over a beautifully diverse landscape, from the bustling downtown area with its skyline and Coronado Bridge to the pristine waters of the bay filled with anchored naval vessels, and onto the Pacific coastline with its rugged cliffs and sandy beaches. This is the way to see the San Diego views as they must be seen, from the air!
To ensure safe and efficient air traffic in the busy San Diego airspace, the FAA designates specific routes that private pilots are expected to follow. Typically, there are north and southbound routes with altitude requirements, ensuring separation from commercial traffic and other aircraft. So, why not get trained on lost diversions, basic VOR tracking, basic airmanship and cross country skills with an incredible view!
Pro Tip: Look for the following landmarks: the USS Midway Museum (we can't all land on an aircraft carrier but it's fun to dream), the Maritime Museum of San Diego, Seaport Village, Naval Air Station North Island and Point Loma.
Flying to Catalina (AVX) is an absolute blast.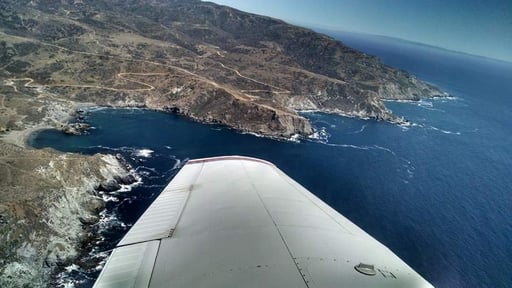 Sneak up the coast and then head out over the great blue to Catalina island! The flight from San Diego to Catalina covers roughly 70 miles, taking you along the picturesque Southern California coastline with sweeping views of coastal cities, sandy beaches, and the vast Pacific. Catalina Island's airport, commonly known as the "Airport in the Sky," is at an elevation of 1,602 feet MSL.
The airport's location presents a fun challenge because it sits on a cliff-top plateau. The approach and departure are very memorable. You don't need to be a rockstar pilot for this flight, but it is probably best once you've already received your Private Pilot Certificate due to the complexity of the cross-country flight. Pilots should also note that runway at AVX is 3,000 feet long and is made of asphalt with a noticeable hump in the middle of the runway. The bump can obstruct views of the opposite end during landing or takeoff. Be prepared and use this as an opportunity to practicing short field techniques.
Pro Tip: Make sure you allocate time for a hike! Catalina island has over 20 square miles of trails with great hikes.
Fly Up the Coast for Lunch at The Landings in Carlsbad (CRQ).
Flying up the San Diego coast and making a pit stop at The Landings in McClellan-Palomar Airport (CRQ) is a popular outing for pilots in San Diego, In fact it is a popular trip for pilots all over Southern California. Flying from Montgomery-Gibbs Executive (MYG), the route gives you views of La Jolla, Del Mar, and finally Carlsbad. CRQ is a public airport that serves North County San Diego. It's a bustling general aviation hub with a mix of corporate jets, private planes, and flight training operations. Combined with the proximity to Camp Pendleton it's a great place to see a variety of aircraft.
In addition to the plane spotting, The Landings is more than just an airport diner. It's an upscale restaurant with a broad menu, including both casual fare and gourmet dishes. Of course it also offers great views of the runway! You can watch planes take off and land, while you eat, adding to the aviation ambiance. If you aren't in the pilot's seat, perhaps time your visit for Happy Hour.
Pro Tip: The Landings has live entertainment every Wednesday, Friday, and Saturday evening.
Fly to Temecula for the Hot Air Balloons and Wineries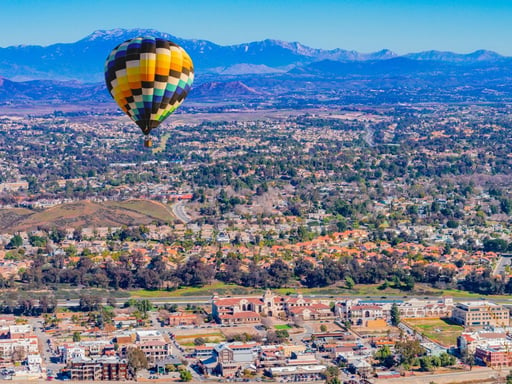 One of the hidden gems in Southern California is the Temecula Valley, renowned for its flourishing vineyards and wineries. A relatively short flight from San Diego. It provides an ideal destination for both novice and experienced pilots. As a pilot, the best way to witness the spectacle of hot air balloons in Temecula is by planning an early morning flight, when the balloons are typically launched. There are launches for sunset too if you need to do some night flight training.
Soaring above these colorful giants reminds you that there are more ways to fly than in a plane. The unparalleled views against the backdrop of Temecula's lush vineyards and rolling hills is just amazing. Obviously it is essential to maintain a safe distance and altitude, and always be aware of the balloon's flight paths to ensure safety for both aircraft and balloons.
After landing, indulge in some lunch or tour one of the many vineyards and if you aren't flying, maybe some wine tasting. But, it's not just about the wine, Temecula also has great gourmet restaurants. This flight combines the best of flying with a view and a touch of luxury.
Pro Tip: If you want to stay the night, perhaps so you can enjoy the wine, Temecula is crowded on the weekends, but pretty quite during the week so you can choose the vibe you want.
The beautiful scenery and great flying weather is just the start of why San Diego is a good place to do flight training, here are 10 reasons why San Diego is a great place for flight training. So if are in interested in become a career pilot or a private pilot the Flex Air would love to help with your San Diego pilot training.