VR&E Flight School
Flex Air Flight School works with an approved Collegiate Program for use with Veteran Readiness & Employment (VR&E) previously known as Vocational Rehabilitation (Voc Rehab) or Chapter 31. This program is superior to the Post 9/11 GI Bill® because it will cover almost all of the flight training and collegiate costs for eligible Disabled Veterans while providing a tax-free housing allowance year-round.
Why is VR&E Important?
Also known as Chapter 31, Vocational Rehabilitation and Employment (vocrehab) is a program designed to help disabled veterans achieve career goals. For those inclined towards aviation, this can translate into a lucrative opportunity to pay for most of all the flight training programs required to become an airline pilot.
How Can the GI Bill Assist in Flight Training?
The GI Bill, managed by the Department of Veterans Affairs, offers comprehensive education benefits to veterans. Among these benefits, flight training stands as an opportunity for veterans to transition into civilian aviation careers. If you want to become a commercial pilot, the GI Bill can significantly ease the financial strain. Read more about the GI Bill flight training.
Flight Training covered by VR&E Chapter 31 benefits
Instrument Rating (IR)
Commercial Pilot License (CPL)
Commercial Single-Engine (COMM ASEL)
Commercial Multi-Engine (COMM AMEL)
Certificated Flight Instructor (CFI)
Certificated Flight Instructor, Instrument (CFII)
Multi-Engine Instructor (MEI)
Airline Transport Certificate (ATP)
How to file a VR&E claim to pay for Flight Training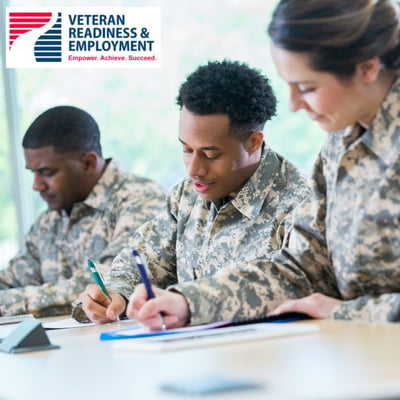 To maximize this benefit, service members need to apply for a disability rating. If you're still on active duty, you should file for disability using the Benefits Delivery at Discharge (BDD) program. If you've already transitioned out of service, consider applying for disability through the DAV.org website.
Filing a smart claim means knowing what to claim and what not to claim. Generally, "Never claim anything from the neck up." Be cautious about a claim of any type of mental or behavioral health disorder, sleep disorder, any kind of post-traumatic stress. The ideal disability for a VR&E claim is 20% - not more. If you qualify for a disability rating of 20% or more, you can use your VR&E benefit to cover flight training with no annual limits.
Once you've received your disability rating, you can apply for VR&E through the VA. Come to your VR&E initial counseling session prepared or your claim will be rejected. The M28C is the official DOD manual outlining how to handle all VR&E claims. You can browse and search the M28C online. There is a third party publication available for $19.95, The Voc Rehab Survival Guide, that may also be useful in your preparation.
Once you have an assigned Counselor, you will be tasked to convince them as to why changing careers to Aviation is a benefit to you and worthy of investment. We have created a PDF guide for VR&E applicants. You must also demonstrate how your current level of Credentialing (or lack thereof) is hindering your ability for long-term earning potential. Having your Private Pilot Certificate before discussing the program with a Counselor is crucial, as well as having a Class 1 Medical in hand will also allow you to overcome any objection from your Counselor that being a Pilot may aggravate your disability.
VR&E counselors may require that you attend college courses for approval, which in our case will be San Diego Miramar College Associates of Science Degree in Professional Aeronautics (San Diego) or Purdue Global Online Bachelor of Science in Professional Flight (Kansas).

38 CFR Book G Subpart A 21.134 states that "Flight training approved under chapter 31 may only be authorized in degree curriculums in the field of aviation that include required flight training" but does not require anything else. You may have to walk your VA counselor through these regulations to show that you have the flexibility to choose any flight training program you wish as long as it gives credit towards a college degree program. Flex Air's training meets these requirements.
Counselors may try to require that your college or flight school be registered in WEAMS (VA Web Enabled Public Institution search tool) or the GI Bill Comparison Tool. This is not a regulatory requirement. (But Flex Air, Miramar College, and Purdue Global are registered in both, see our downloadable pdf VR&E guide for more info).
Your flight training goal is your Certificated Flight Instructor - Instrument (CFI-I) certificate. The industry is in need of qualified Certificated Flight Instructors (CFIs) and these jobs allow you to gain the 1,500 flight hours of experience needed to be hired as an airline first officer, where you will earn over $90,000 per year.
Get help with VA Benefits for Flight Training
VR&E for Flight Training Checklist: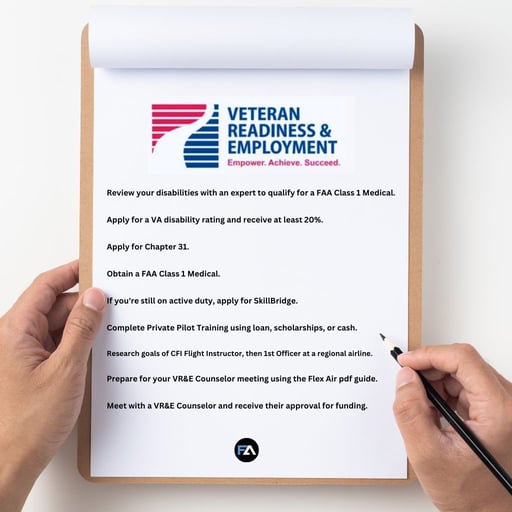 Flex Air's SkillBridge Program provides mentorship on how to use your VA benefits
All Veterans are eligible.
Drop by a monthly SkillBridge Information Briefing to learn about how to use your Chapter 31, Chapter 30 (MGIB), and Chapter 33 (Post 9/11 GI Bill) benefits for flight training. Any Veteran is eligible for our SkillBridge program regardless of active-duty or reserve status.
More resources for transitioning servicemembers
Readings and exercises can help you discover your personal career goals and values while developing the soft skills you'll need for success.
Military helicopter pilots can transition directly into airline careers. Flex Air's RTP training is a complement to SkillBridge for rotary wing pilots.
SkillBridge is your best first step. Learn how to unlock your VA benefits for advanced flight training.