Reading List for Future Pilots
Academic studying is a crucial component of flight training, as it equips aspiring pilots with the theoretical knowledge required to operate an aircraft safely and efficiently. By studying subjects such as aerodynamics, aviation regulations, and aircraft systems, pilots gain an understanding of the principles that govern flight and the factors that influence the performance of an aircraft. This knowledge is essential for making informed decisions during flight, such as determining the appropriate airspeed and altitude, assessing weather conditions, and responding to emergencies.
But it's also important to be inspired, understand the history of aviation, and know the amazing stories of what pilots have accomplished in their careers!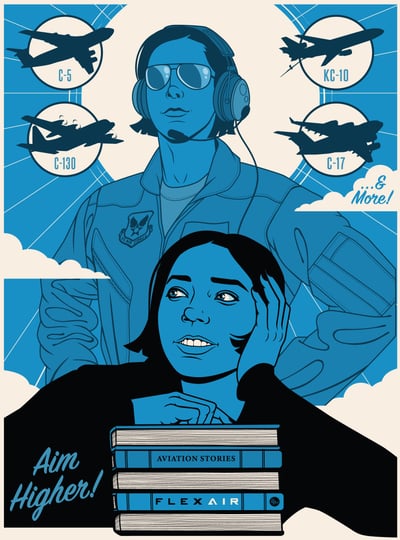 Here's our starter reading list for any aspiring pilot:
1. Pilot's Handbook of Aeronautical Knowledge by Federal Aviation Administration/Aviation Supplies & Academics
An official FAA handbook that has been required reading for pilots for more than three decades. It offers basic flying fundamentals for all types of pilots and all types of aircraft. Available online for free on the FAA website!
2. 'Inspiring Words for Sky and Space Women–Advice from Historic and Contemporary Trailblazers'
Promoting aviation is one of author Penny Rafferty Hamilton's passions. The National Association of State Aviation Officials honored her with the National Aviation Journalism Award. Available at the author's website.
3. The Next Hour: The Most Important Hours in Your Logbook by Richard L. Collins. by Peter M Buffington.
Author and aviator Collins shares his personal experience in the hopes that pilots of all experience levels and abilities will be able to learn how to navigate through the inherent risks that are associated with flying small planes. Available at Sporty's Pilot Supplies.
4. Stick & Rudder: An Explanation of the Art of Flying by Wolfgang Langewiesche.
An old but classic explanation of the fundamentals of flying, written by a pilot for pilots. Available at Sporty's Pilot Supplies.
5. Devotion: An Epic Story of Heroism, Friendship, and Sacrifice by by Adam Makos.
This story tells the inspiring tale of Lieutenant Tom Hudner and Ensign Jesse Brown, the most famed duo pilots in the history of the U.S. Navy. Hudner was a white male who hailed from an affluent New England Family who forewent studying at Harvard to fly fighter jets in the Navy. Brown was an African American from Mississippi, the son of a sharecropper, who became the first African American carrier pilot for the Navy and served a country at a time when Jim Crow laws prevented him from being served in restaurants and bars. Available from several sources at Goodreads.